Shaft Drive
Foldable Design
Unibody
Smart Safety Response
Gyroscope Sensor
Hill Start Assist
Removable Battery
Noseless Seat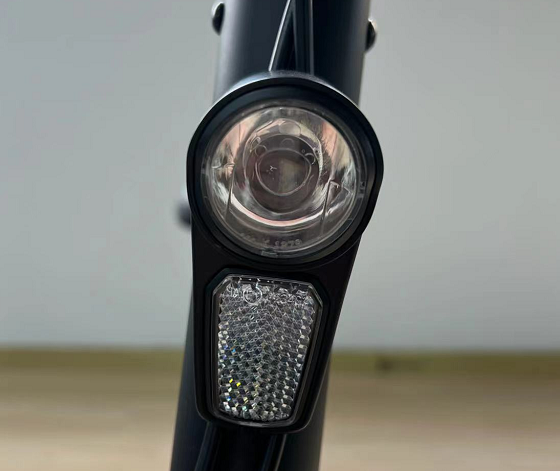 Front Light
LED front Light, 300m visible distance
Blue angel eye, 15 Lux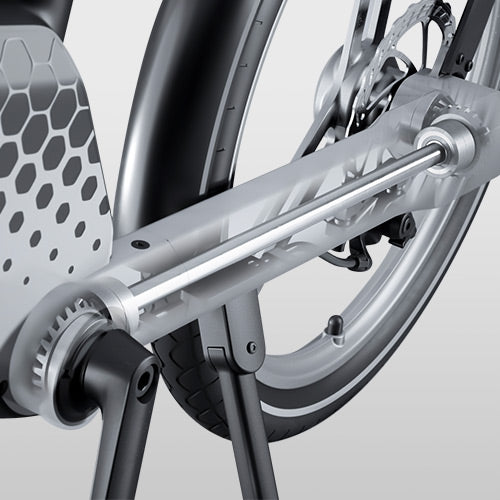 Patented Shaft Drive System
40,000km free maintenance proven & tested driven system.
100% fully sealed aluminum alloy shell protection.
Golf Seat
Noseless design for all genders.
19.3*18.7cm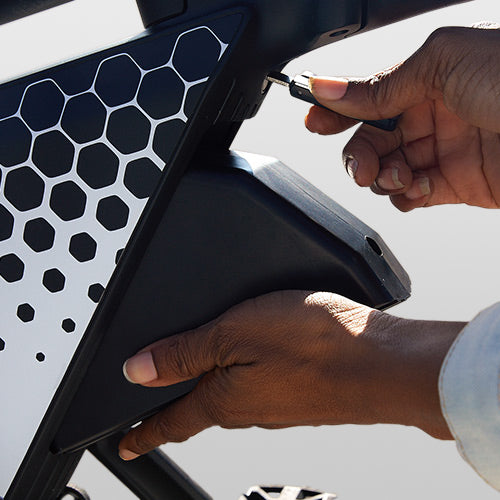 Removable battery
Charged on or off the e-bike, alternative options.
36V/6Ah, 3-4 hour fully charged
Front motor
14:1 integrated high ratio transition system.
Lightest & smallest 250w hub motor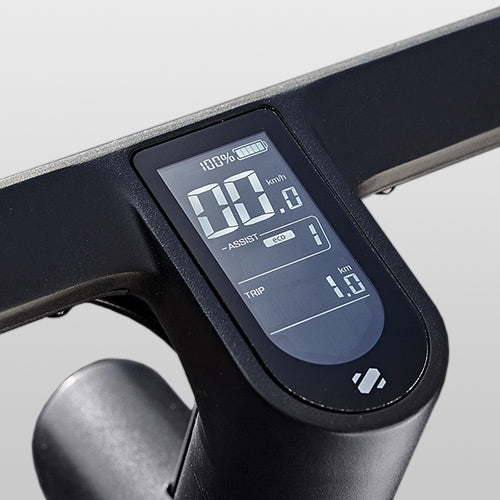 Flush LCD display
Everything you need to catch at a glance.
Speed, pedal assist level, battery power, light, mileage, etc..
Rear Reflector light
220 viewing angle,5600 light intensity.
Germany K standard complied mudguard light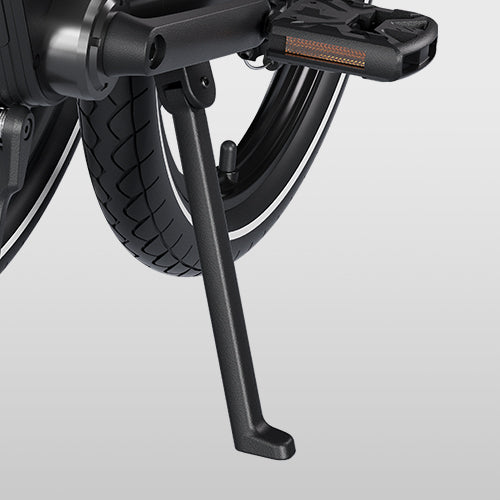 Kickstand
Robust design, hide right beneath the shaft tube, never get your clothes dirty or scratched.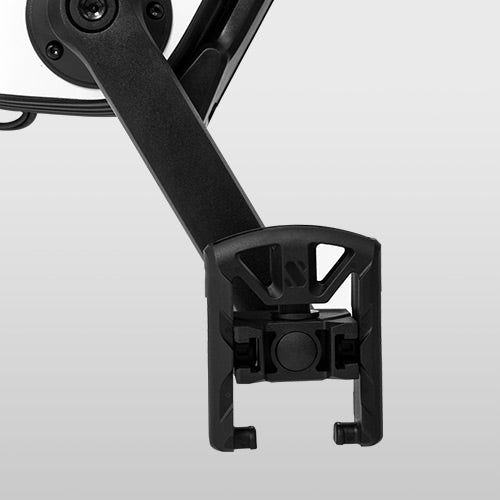 Foldable Pedals
Quick fold to fit most carry scenarios.
Easy fold for a more space efficient storage.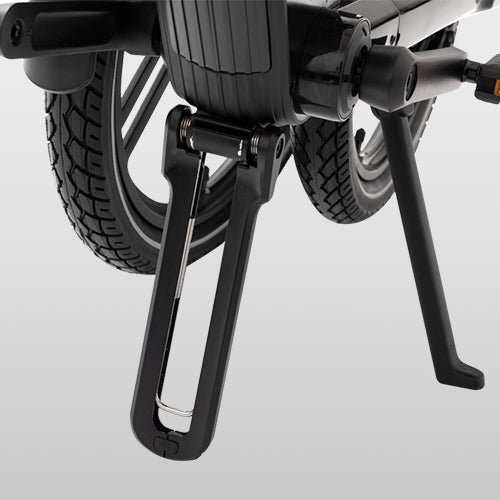 Folding Stand
Quick release to safeguard a well-balance while folded.
Easy fold for a more space efficient storage.
Handle
Bike Brake & Bell
Ergonomic design brake & easy to press bell.
One Size for All
Adjustable seat height for all size.
Easy to adjust for everyone at any time.
Carry Grip
Grab and go anytime, anywhere.
Clean Shaft Drive System - HONBIKE Monotork™
50,000+km shaft drive system maintenance-free longer lifespan,no chain off, no belt loos, no need to clean.
100% enclosed & sealed shaft tube, impervious to the outside environment.
Clever internal linkage arrangements for a durable and reliable drive system.
HILL-START ASSIST TECHNOLOGY
Detects terrains/slopes automatically and helps you smooth out starts on hills.
Torque sensor detection to give you enough torque in uphill scenario.
A safer and quicker uphill start assist helps you changing pedals easily and properly.
TRI-SENSOR SMART SYSTEM
Safety alert sensor helps determining the speed and torque of your turning wheels.
Angle alert sensor cuts off motor power when your e-bike tilt angle >30° to prevent from falling when making a turn.
Gyroscope sensor helps steer effortlessly and balanced-well in the dynamics of your e-bike.
SMALLEST HUB MOTOR
14:1 Integrated high reduction ratio transition system, generate same torque efficiency with less effort.
100+ rounds test and optimization to find the best engineering design & materials.
The smallest and lightest 250W hub motor merged the absolute best power, torque and efficiency output.
Make the Differences
Single-sided Fork Design
Within 2 minutes, directly replace the tire or inner tube.
Easier to maintain and repair without removing the wheel.
Unibody Magnesium Wheel
Unibody magnesium wheel design ensures the wheel is strong,durable.
Always runs true with no need to make regular tension adjustment to the spokes.
Golf Seat
Unisex design, one saddle for all genders.
Ergonomic construction, next level supportive & comfortable.
Chainless--Shaft Drive
100% enclosed & sealed shaft tube, unaffected by the weather.
Concrete hard connection, no chain off, no belt loos, no need to clean
Brake Lever
Cool and durable design for a better brake interaction.
Maximum finger control for perfect push fit and feel.

FOLDABLE DESIGN
Minimalist & Easy to use
Comparing with normal e-bikes of > 250 parts, Honbike has only 57 parts, easy to assembly, easy to replace , and saved a lot of energy form production to transportation.
Foldable & Easy to Carry
Fold up within 15s in 4 steps and easy to store it anywhere or to travel with you. One fold at the handle. One fold on the frame. (99*45*85cm)
At Your Fingertips
Detachable Battery
Easy swapping offers a different charging option.
Extra battery possibility on the go to double your mileage.
Automatically closed sealing sheet inside the battery keyhole to prevent water/dust from blocking.
One Size for All
Adjustable seat height for all size.
Patented Butterfly Lock , user-friendly.
Brake Lever
Cool and durable design for a better brake interaction.
Maximum finger control for perfect push fit and feel.
Foldable Pedals
Quick fold to fit most carry scenarios.
Easy fold for a more space efficient storage.
Stabilized Kickstand
Corrosion-resistant, quick release and lightweight.
Standby to safeguard a well-balance while folded.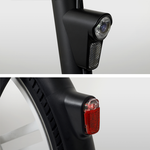 Front & Rear Lights
Rear road light to ensure you're seen by other road users.
Front road light to see clearly what's ahead of you.
MINIMALIST DESIGN
Eliminate all unnecessary decorations to ensure a light weight and an overall frame aesthetic and strength.Comparing with normal E-bike of 250 parts, Honbike has only 57 parts, just pay for the most needed functions, making bike your assistant but not your burden.
SPECS
1. Frame


Die-cast, Aluminum, Unibody Design

2. Motor


250W Front Hub Motor

3. Top Speed


25 km/h (15.5 mph)

4. Top Range


40 km

5. Max Payload


100 kg

6. Self Weight


20.8 kg

7. Fit Height


150-190 cm

8. Battery


Lithium-ion 36V 6Ah (removable)

9. Charger


1.7A

10. Charging


3.5-4 hours

11. Riding Modes


Eco/Normal/Sports

12. Pedal Assist


5-Level pedal-assist

13. Speed Sensor


Torque + Cadence sensor

14. Display


Integral LCD

15. Light


Front & Rear LED

16. Waterproof


IP65 Electrical Parts; IPX4 other parts
GEOME
1.Total length: 154.5cm2.Handlebar Height: 106cm
3.Wheelbase: 101.5cm4.Minimum Seat Height: 73cm
5.Maximun Seat Height: 82.5cm6.Shaft Drive Length: 41cm
7.Standover Height: 51cm8.Wheel Diameter: 50cm
9.Top Tube Length: 45cm10.Stem Height: 30.6cm
11.Handlebar Length: 59cm12.Length: 99cm
13.Height: 84cm14.Width: 45.5cm
OUR PROMISE:
Free Shipping EU & UK
2-Year Warranty
14-Day Returns
BUY NOW, PAY LATER
PayPal in 6 (for all)
Klarna Slice It (6-36 for DE)
Klarna BNPL (for DE)
ADVANCE YOUR RIDE
FAQ
How does the shaft drive system work?

Shaft drive is essentially a gear transmission, just like the transmission of a car or a truck that transfers power to the wheels from the engine, in our case the power input from the pedals combined with electric assistance from the front electric motor.

How reliable is Honbike Shaft Drive system? Does it require regular maintenance?

Unlike conventional shaft drives – or traditional chain mechanisms – Honbike's system is fully encased in an aluminum shell, delivering 50,000+ kilometers of grime-free, maintenance-free propulsion.

Is Honbike HF01 certified and legal in the EU & UK ?

We follow the EU & UK laws.
Honbike HF01 conforms to the requirements of: Machinery Directive (2006/42/EC), the EMC Directive (2014/30/EU), and the Radio Equipment Directive (2014/53/EU), and DIN EN 15194:2017, and the ChainFree One battery complies with UN 38.3 lithium-ion battery testing standards.

Is the battery removable?

Yes, you can remove and charge the battery as needed.

What's the top speed of Honbike Honbike HF01?

When it comes to speed, we follow the European laws for pedal-assisted eBikes which require the motor to cut out once you hit 25km/h (15.5mph).
Honbike HF01 is a pedal-assist electric bicycle, it activates the motor by pedaling instead of using a throttle. It is designed to make riding an e-bike mimic the natural motion you are used to feeling when riding a bicycle. The motor will power up automatically when you pedal.

What's the top range of Honbike Honbike HF01?

HONBIKE PRO supports a maximum range of 40km* (24.8miles*) on a single charge.
But you can double your range with an additional battery, which can double your range to approximately 80km*(49.7miles). --Buy here.
* Test Conditions: Pedal Assist Level: 1; Wind conditions: Light breeze; Terrain: Mostly flat; Rider's; Weight: 75kg; Temperature: 25 degrees, Tyre Pressure: Maximum.

What's the maximum payload of Honbike Honbike HF01?

The maximum weight limit for Honbike PRO is up to 100kg(220lbs) including luggage.

What's the waterproof rating of Honbike HF01?

None of the electric bikes are 100% waterproof, they can withstand rainy conditions to some degree.
HONBIKE Pro can withstand light rain and small splashes, and its mechanics and electronics are protected from the elements, meeting the IP4X and IP65 ingress standards.

What's the weight of the Honbike HF01?

The bike weighs 20.8 kg (45.9 lbs) including battery.

Where do we ship to?

How to install the front basket of HF01?

Snap the frame bracket over the head tube, and attach the front basket. Align the two holes on the bracket with the two holes on the front basket. Use hex key #4 to tighten the two M5 bolts.
Bellissima
È una bicicletta ideale: elegante, costruita benissimo, solida e completa di tutto ciò che può servire. Ho fatto pochissima strada perché l'ho appena ricevuta, ma è semplicissima da assemblare e da usare. Ne comprerò un'altra
Bellissima
È una bicicletta ideale: elegante, costruita benissimo, solida e completa di tutto ciò che può servire. Ho fatto pochissima strada perché l'ho appena ricevuta, ma è semplicissima da assemblare e da usare. Ne comprerò un'altra