Share Article
E-bike Comparison: Honbike Uni4 vs. Tenways CGO600
With so many new e-bikes hitting the market these days, it can be challenging to know which one is right for you. Perhaps you own an electric bike and are looking for a quality upgrade, or maybe you are brand new to the world of electric bikes. No matter which category you're in, it is always beneficial to compare multiple options to ensure you are getting the best deal.
As you consider which e-bike to buy, there are certain characteristics and features you'll want to pay attention to. Some electric bike brands trade style and power for a lower price, while other brands try to strike a balance of affordability and efficiency. These differences sometimes come down to personal preference but today we will cover the six main features that are always a good idea to compare.
As an example, e-bike comparison, we are going to use the new Honbike Uni4 vs. the Tenways CGO600. These two electric commuter bikes are somewhat comparable, but as we will see, they differ in a few meaningful ways. After coming to your own conclusion based on the facts in this article, you should be more confident in making the right choice for your next e-bike purchase. 
E-bike Comparison Chart
| | | |
| --- | --- | --- |
| Features | Honbike Uni4 | Tenways CGO600 |
| Range | 100KM | 70KM |
| Frame Material |  7000 Series |  6061 Aluminium |
| Drive system |  Carbon gates belt | Carbon gates belt |
| Motor Power |  EU:250w US:350w |   250w |
| Battery | 36v,12AH |  36V, 7AH |
| Weight | 20kg | 15kg |
| Speed | EU:25km/h US: 32km/h | EU:25km/h US: 32km/h |
| Display | Integrated LCD screen | Minimalistic OLED Display |
| Price | €1.699,00 |   €1.599,00 |
To assist with an easy examination of the differences and similarities between these two bikes and the core features, we will reference the chart above which uses current data as of August 2022. 
Range Comparison
One of the most important features to consider in any e bike is the range. As a long-range electric commuter bike, we knew it was important to get every last kilometer of range out of our new Uni4 model. At 100km, the range is more than sufficient to tackle any errand or commute there and back. The Tenways CGO600 City Road Series offer the 70km range, which is great to see as well. 
Frame Comparison
A strong and stylish frame is important for many reasons. The frame material is used for such a large percentage of the bike that it must be considered in any e-bike purchase. This is why the Uni4 by Honbike has opted for an ultra high-durability, aircraft-grade 7000 series aluminum. Most bikes, including the Tenways model shown here, use a traditional 6000 series. Both are aluminum alloy materials, but the 7000 series has more zinc and magnesium in it, which is a higher strength mixture than the 6000 series. The higher-end aluminum found in the Honbike model is great for the city where bumps and minor collisions may occur. A strong bike frame is the key to a good commuting e-bike. 
Drive System Comparison
The thing we like most about both of these bikes is the inclusion of the gates carbon belt drivetrain. One must consider the alternative to a belt drive is a chain and sprocket system which requires regular greasing, is prone to dislocation, and may need to be replaced sooner than the belt. Thanks to the chainless belt drive system shown on both of these ebike models, you will enjoy a smooth and comfortable, and most importantly, maintenance-free riding experience for many thousands of kilometers.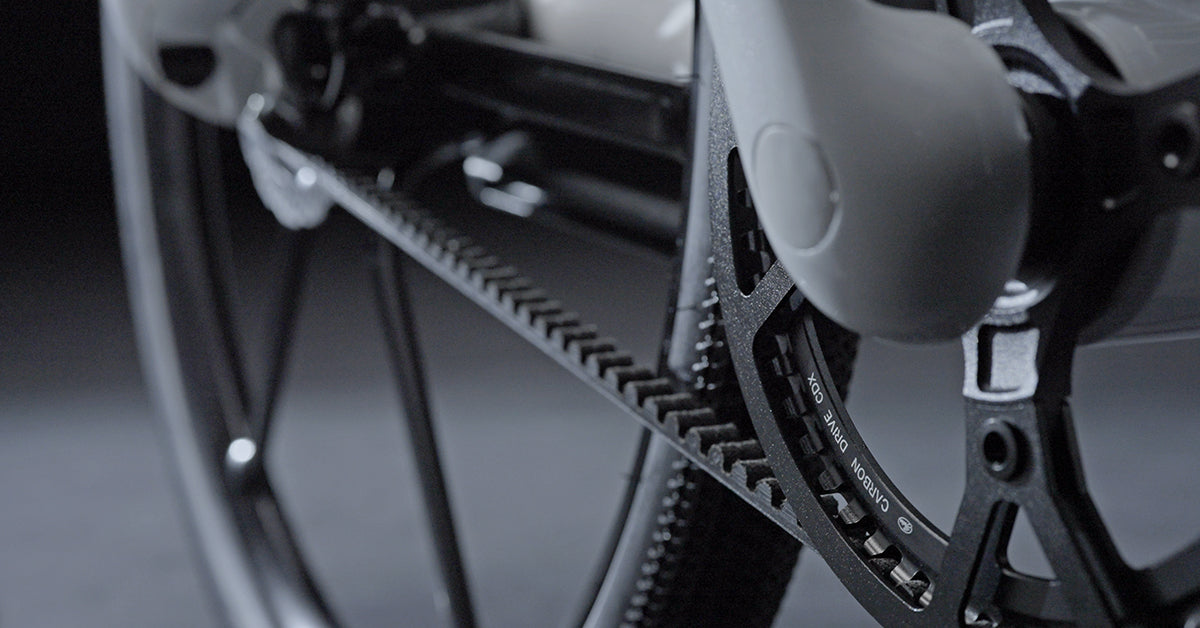 Motor Comparison
At 250 watts of power, both bike motors in this comparison are legal in the EU and the United States and are classified as Class 2 e-bikes in the U.S. thanks to their operable pedals and the perfect level of assistance provided to the rider. While Honbike has equipped the Uni4 with a 350w motor for US riders where permitted by law. Both bikes sport a brushless gear hub motor which is located in the center of the rear wheel. This quiet but powerful motor provides plenty of output to help you get where you're going with less stress.
Price Comparison
Finally, we come to the last spec to consider between any two products, especially electric bicycles: the price. Most riders purchase an e-bike to alleviate the high costs of vehicle ownership and maintenance. In this area, there is only 100 euros difference between the two models. By using a "direct-to-customer" distribution model and advanced manufacturing capabilities, Honbike can offer a slightly higher quality bike at comparable prices. An award-winning design at an affordable price is a win-win in our book. 
Conclusion
Overall, both electric bikes are great companions for urban riding. the Honbike Uni4 compares more favorably than the Tenways CGO600 thanks to the robust 700 series aluminum and the much longer range, making it an attractive option for range-conscious shoppers that don't want to sacrifice on quality. As a bonus comparison point, the Honbike even comes with a 2-year warranty. Be sure to check the warranty coverage for any bike to give yourself an extra boost of confidence in case something goes wrong with your bike.
At the end of the day, personal preference does play a role in the selection of any two products, especially one as important as your next bike. We hope this guide points you in the right direction while laying out the differences in an unbiased manner. The ultimate decision is up to you, the rider. You can also try this comparison out with other models now that you know what to look for!
---
Related Product
---
Share Article