Share Article
Is Germany a Bike-friendly Country?
Do you wish to live in Germany but wondering if it's bicycle-friendly? The good news is that there are several cyclists to connect to, more than you may think. Germany is not only becoming a cycling country but is adapting to the ecosystem trend. 
What's the Current Rate of Cyclists in Germany?
According to research, about 78% of Germans are either occasional or regular cyclists. The rate of cyclists increased since the Covid-19 pandemic was widespread, as people covered longer distances without being stuck in crowded areas. This was also caused by the need to maintain social distancing and employ a more flexible mode of transportation. Also, the elimination of the need to queue at fuel stations made people adapt more to eco-bicycles. It was also reported that about 1.8 million people engaged in a bicycle trip for the first time, in 2020, as a means of surviving the pandemic.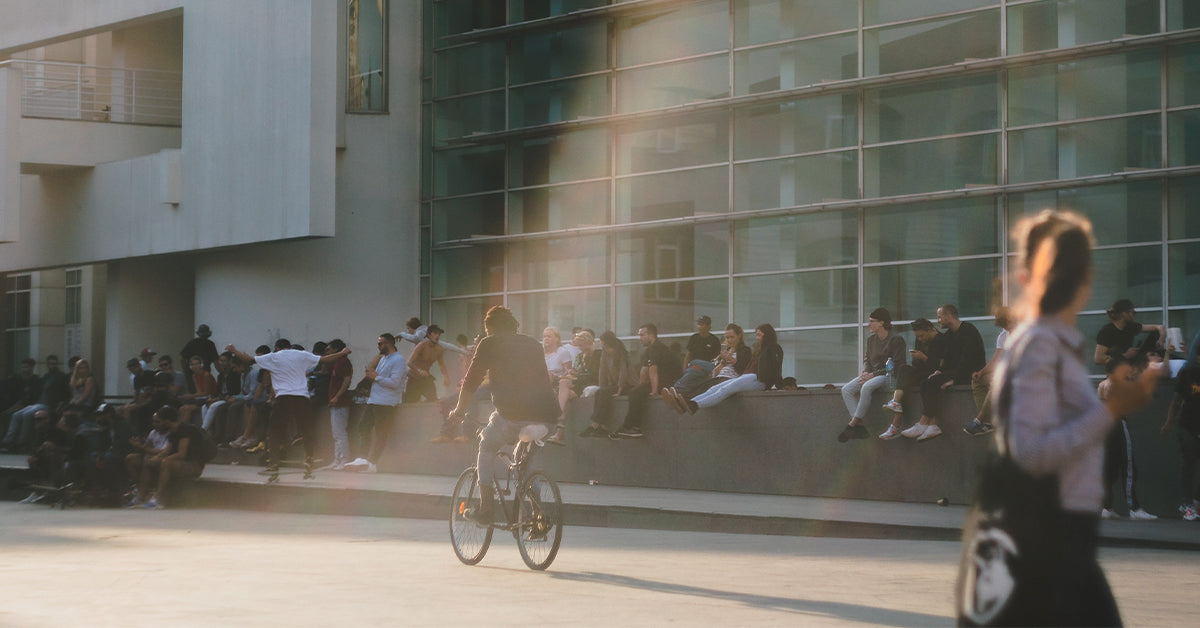 Cycling is becoming a part of German culture, as both young and old are engaging in the independent mode of transportation. The lack of dependence on the public transport system is worthy of emulation, while the government also encourages the citizens to cycle with an electric bike. This is to help solve the overwhelming climate crisis, which could threaten environmental sustainability. Thus, there is a high rate of cycling in both urban and rural areas. Since more infrastructures are being built in support of cycling, Germany may record between 30%-50% increase in cycling activities by 2023.
Germany's Progress in Becoming a More Cycling Country
Germany has made significant progress in becoming a cycling-friendly country in recent years. There have been several government policies at both local and country levels, to enhance cycling activities. This is due to the wide adaptation of cycling as a healthy mode of transportation. One of the notable contributions of the government in promoting cycling is increasing shares of cycling trips to 15%, ahead of 2025. This is help provide more funds for cycling infrastructures, such as parking areas, cycle highways, protected bike lanes, and traffic measures.
Notable Bike Lanes in Germany
In response to the growing cycling activity, Germany create designated bike lanes for its citizens. This is to curb or reduce the likelihood of cyclists colliding with pedestrians. Whether you are a citizen of Germany or you look forward to visiting, here are notable bike lanes to look out for.
Berlin wall trail: The Berlin wall trail is a 160 km lane that runs along the former path of the Berlin Wall. This lane was designated as a historical site and landmark. The trail begins at the former border crossing point at Bornholmer Strasse. Some of the historical sites or landmarks of the Berlin Wall trail include Checkpoint Charlie, Brandenburg Gate, and Berlin Wall Memorial. Cyclists can easily identify the segmented historical landmarks in the Berlin Wall trail. More importantly, it exposes cyclists to interesting views from neighboring towns.
Elbe cycle route: This route starts from the Elbe River or the Czech Republic to the North Sea. It's a 1,200 km landmark, featuring charming towns and picturesque landmarks. This route is one of the most popular, providing cyclists with an opportunity to explore boat tours, hiking spots, wildlife, and other outdoor adventures. If you are a cycling enthusiast and you enjoy nature a lot, here is a place worthy of a visit in Germany. You may also travel through notable towns and cities, including Hamburg, Magdeburg, and Dresden.
River main cycle route: This 600 km route follows the main river from its source in the Franconian Forest to its mouth at the Rhine. You will find major stunning cities and towns along this route, including Wurzburg, Bamberg, and Frankfurt. You will also get to see iconic architectural designs with scenic vineyards. It makes this part of Germany a fascinating place for cyclists who need to relax their minds. Thus, the government and concerned regulatory bodies work diligently to maintain the route, as a source of tourist attraction. This leads to several route sections, including shared roads, dedicated bike paths, and unpaved trails.
Rhine cycle route: The Rhine river has its source from the Swiss Alps to its mouth at the North Sea. This route is 1,233 km long, and it's noted as one of the most important routes in Europe. Cyclists can see stunning views from this route while passing through major cities like Cologne, Strasbourg, Basel, and Mainz. You can also camp with your friends and family around this location. It's a great way to enjoy the natural environment.
Moselle cycle route: The Moselle cycle route is a 310 km long bike path that follows the course of the Moselle River. The route starts in the town of Perl, located on the border between Germany and Luxembourg, and ends at the town of Koblenz. Along the way, cyclists can explore several notable towns, including Trier, which is Germany's oldest city. There are lots of historical views and scenic you can experience here.
Cycling Rules in Germany
To maximize riders' safety and ensure ordinance, concerned cyclists are mandated to follow the road rules set by the German government. It's safe to say these rules are also responsible for the rapid adaption of cycling in Germany. This is because individuals are encouraged to cycle, having realized the measures put in place by the government, to ensure their safety.
Wear a helmet: Every cyclist in Germany must wear a helmet, especially in congested cities. Although there is no legal punishment for not riding with a helmet in Germany, it's highly recommended for safety. It's also recommended you wear a helmet that fits into your head perfectly.
Obey traffic laws:Cyclists are subject to the same traffic laws as motorists in Germany. Thus, you need to learn the stop signals and other traffic markings of your province before taking out your bike. You must also identify the most comfortable bike lane for your ride.
Maximum riding speed:The maximum speed for electric bikes in Germany is 25 km/h. Riding above this speed may incur some penalties or legal charges. However, you may consider riding with electric bikes such as Honbike models, which are built with an LCD. This will help you stay on track, and easily detect when you are riding above your province's speed limit.
Use necessary accessories: Some accessories, including lights and reflectors, are mandated while riding in Germany. This is particularly true for riding along bike paths in low-light conditions. If you are riding any of the Honbike models, you can access or install lights at both the front and rear view of the electric bike.
Riding in groups:Cyclists are allowed to ride in groups, but they must ride in a single file and not block the road. You may also prioritize group rides if you are new to the environment. This will boost your social life, helping you to make meaningful connections.
Bike paths: Cyclists are required to use designated bike paths and bike lanes when they are available. If there is no bike path or lane, cyclists are allowed to ride on the road with the flow of traffic. Also, riding a portable-sized electric bike like the Honbike Uni4 model will help you to easily maneuver through a high traffic city.
Electric Bikes Is Becoming the Future of Cycling
E-bikes have the potential to significantly impact the future of cycling. Foremost, it will make cycling more accessible to people, especially older adults and people with physical limitations. This is possible through the pedaled mechanism in an electric bike, which provides a reasonable level of ride assistance. Presently, electric bikes are being designed to be compatible with all types of terrains, and other tackle challenging areas. Thus, society can anticipate higher-performance electric bikes in the nearest future.
To ease the commute process, technology is being imputed into electric bikes. This will affect the future of cycling positively, as cyclists can monitor their ride performance. A perfect existing example is the Honbike mobile application, which can be integrated with the electric bike. This mobile application can also alert the bike owner in theft cases. Countries like Germany, with an increasing rate of electric bike users, can boost their tourism sector. This is because tourists will easily explore places that have not been accessible. Visitors can also reach their destination within a short period. Additionally, electric bikes will boost the effect of cycling in promoting a healthy lifestyle among commuters.
Conclusion
It's safe to say cycling is becoming more popular in Germany because more people are recognizing its benefits. Thus, there is increased advocacy for cycling, especially among health communities or organizations. Even though Germany is growing in micro-mobility, there is still room for more cycling infrastructure. Cycling is still seen as a secondary mode of transportation, unlike vehicles, which is due to some lack of infrastructure particularly in rural areas. Nevertheless, you may contribute to providing a solution to the carbon crisis by commuting with an eco-friendly and flexible mode of transport, an electric bike.
---
Related Product
---
Share Article