Share Article
Long Range E-bike: How Far Can You Really Go?
It is essential to know how far your electric bike can go so that you can prepare ahead for your journey. Meanwhile, the electric bikes range also varies with certain factors. Factors such as battery and motor capacity will determine the speed at which your electric bike can operate. Weather conditions can also influence how far you can go on a journey. Other factors will influence your electric bike's range, further discussed in this article.
How Far Can You Go with Honbike?
As mentioned earlier, electric bike ranges vary. However, most electric bikes can cover about 25-100 KM on a single charge. The Honbike Uni4 covers up to 90 KM, a worry-free distance for an average commuter. Honbike HF01 covers 40 KM, while riders can rake an extra batteries to cover an extended distance or journey.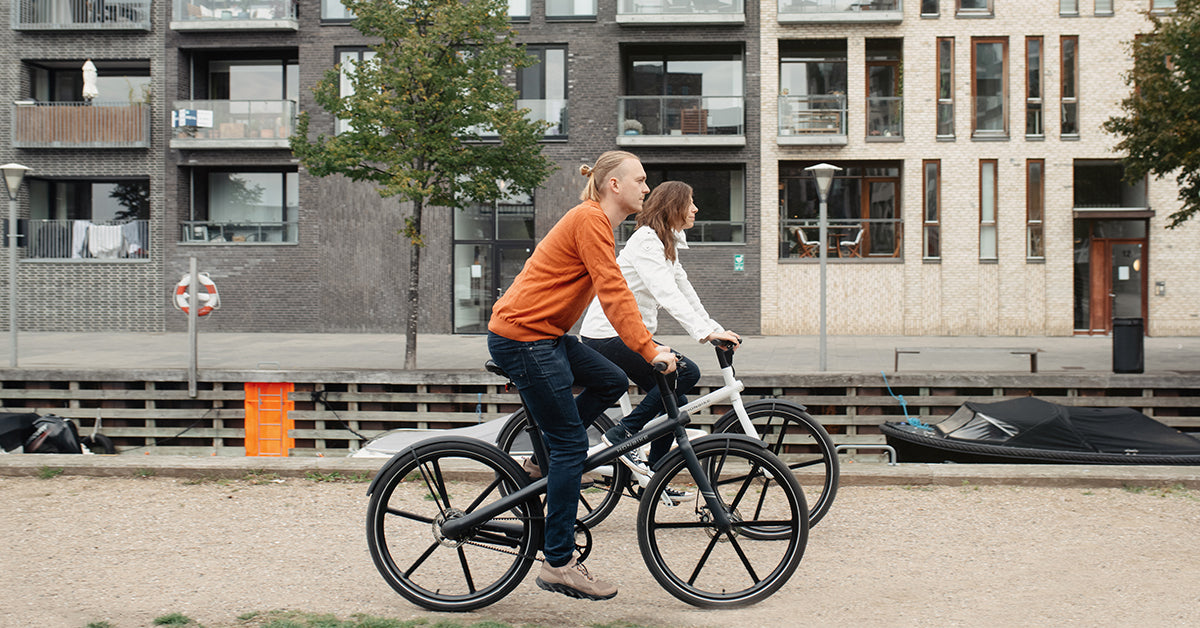 How to Know the Distance Your Electric Bike Can Cover
Whether you are buying a new electric bike or want to upgrade your existing bike range, there are ways to determine how far the e-bike can go. These will help you to plan appropriately for the journey ahead.
Check the Battery Size and Capacity: A large and highly capable electric battery can cover a long distance. However, it requires you to care for your battery appropriately to enjoy its benefits.
The Pedal-Assist Level: The assist level on an electric bike will determine how much you can regulate the power output. The lower the assist level, the higher the distance you can cover. In most cases, the pedal-assist will be in three modes.
Using Manufacturers Manual:Almost all information concerning your electric bike is provided in the manufacturer's manual or user guidelines. You should trust the information in the manual rather than an external source of information. More so, some manuals provide information on the electric bike's distance level under particular weather conditions. Thus, you have all the information you need for all seasons.
How to Estimate Distance While Riding an Electric Bike
Reputable manufacturers like Honbike are introducing technology devices that allow riders to track their distances. The Uni4 is built with a one-piece handlebar display, where riders can know the speed they are riding through the LCD.
Once you get the speed, you can calculate with time to get the ride's distance. This is a mathematical approach, multiplying your rate by the time covered. Below are other ways to monitor your distance while riding.
Using a GPS Device:The device can be installed on your electric bike which tracks distances and gives directions. This is particularly useful when you are riding on an unfamiliar road trip.
Using a Computer Device:A bike computer is a lightweight device that can easily be attached to the electric bike. It is usually attached to the electric bike stem or handlebars.
Using Smartphone Applications: The Honbike manufacturing company has an app that allows you to connect your electric bike to your phone. It is compatible with both iOS and Android and is also user-friendly.
Benefits of a Long-Range Electric Bike
Short-range electric bikes can be frustrating, especially when the e-bike is non-fordable, and you have to struggle it into a vehicle to split your transport mode. Riding a long-range electric bike saves you a lot of stress, as you are less worried about breaking your transportation mode. To enjoy your electric bike to the maximum, consider buying a foldable and long-range model. Below are several reasons why you should consider a long-range electric motorcycle.
Cost-Effective: Riding an electric bike is more cost-effective than other modes of transportation, including vehicles. Thus, you are saving yourself from the excessive gas fee. Electric bikes do not also require high maintenance costs like vehicles.
Eco-Friendliness: Since global warming has become a threat to the earth's sustainability, it is the responsibility of every individual to play a part. One of the best responses to solving the carbon crisis is through transportation. Electric bikes release no fossil fuels into the atmosphere, which makes them an eco-friendly transportation system. Since they have a low carbon footprint, humans will contribute more to sustainability when riding through long ranges.
Leisure Rides: Long-range electric bikes are considered the perfect option for leisure rides and people who want to explore the beauty of nature. It is also ideal for summer when you can visit picnic or vacation spots with friends and ride buddies. However, taking an extra battery while traveling long distances is encouraged.
A long-range electric bike is versatile and can be used for other riding purposes apart from leisure. It is ideal for daily commuting and off-road rides. You can also ride a long-range bike during different weather conditions as much as you meet the proper requirements.
Health Benefits: When you use a long-range electric bike, you exercise more. It boosts your cardiovascular system and strengthens your muscles. Riding on a long journey also helps relieve stress and increase mental capacity. This is why it is highly recommended for seniors and individuals recovering.
Tips to Buy a Long-Range Electric Bike
Knowing the benefits of a long-range electric bike, below are the tips you should consider while shopping for one.
Plan your finances, and set out the maximum amount you can use to purchase an electric bike. However, feel free to increase your budget if it is necessary to meet your preferred high quality or taste.
Electric bicycles are of different models, so you should explore your options as much as possible. Your terrain should also determine the most suitable bike features for you.
Refrain from jumping at the first search result on your screen while looking for a long-range electric bike. Always compare your options to be sure you are making the right choice.
After comparing the various brand options, choose a company with a good reputation in the industry. The company should also have good customer service and positive testimonies from past and current users.
Understand how the electric bike works, especially the battery compartment. You must be able to remove and replace a drained battery with little or no stress.
Ensure to choose an electric bike that is suitable for your body weight. Most manufacturers often include recommended load weight in their packaged products. For instance, the maximum weight for Honbike U4 is 120 kg, including luggage.
Tpis for a Long-distance Ride
Consider the tips below if you want to have fun while riding a long distance.
Always take with you the essential feeding items that will fuel your energy. This may include fruit juice, fruits, and snacks. However, you must take some water along.
Even though you choose to take an extra battery, you should fully charge the current battery. However, avoid overcharging, as it can cause excessive heating.
Your dressing should be comfortable, so you do not fade out on the trip. More so, your clothing should be suitable for the weather conditions, both in winter and summer.
Plan your route before raking your electric bike to the road. You may need to catch up on tracks if you are still getting familiar with a particular path.
Refrain from applying too much pressure on yourself, but only do the distance you can cover. Thus, understand your body system, and do not hesitate to rest whenever necessary.
Conclusion
Besides the factors discussed above, riders can also influence their e-bike range. For instance, a rider's weight and the number of stops made during the journey will affect the distance. The pedaling intensity also reflects on the electric bike's range. Thus, the more a rider pedals, the longer the expected range. Overall, a rider must prepare adequately and understand the appropriate measures for riding long distances. Following the tips discussed in this article, you can enjoy a long-distance ride without discomfort.
---
Related Product
---
Share Article