Share Article
How to Choose the Best E-bike Helmet
For every e-bike rider, wearing a helmet plays great roles in minimizing the risk of sustaining head injury during an accident or road collision. If you often ride on busy roads, wearing an e-bike helmet should not even be a second thought. This guide contains all the information you may need, to choose the best electric bike helmet.
Type of Electric Bike Helmets
There are various types of electric bike helmets for sale. However, the main differences usually exist in the model designs. Thus, there is no significant difference between a male and female helmet. Nevertheless, the three common categories of helmet you will find in the market are below.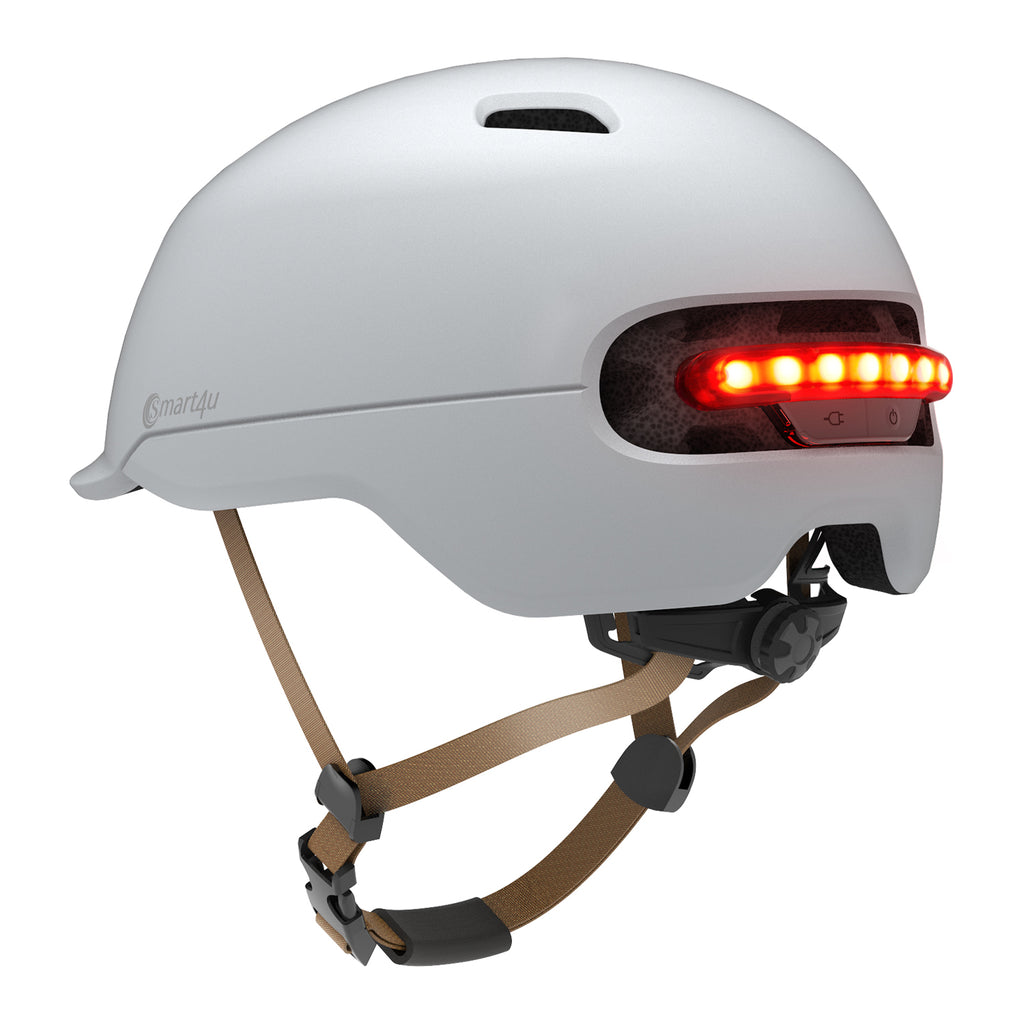 An electric bike helmet with visors:This serves as extra protection when riding in an extreme cold or sunny weather condition. The visors also protect the eyes from debris and dirt, especially if you are riding at a high speed.
Folding helmets: Foldable helmets are easy to carry around, and weighs much lesser. Also, you should consider a foldable model that would not compress easily.
illuminated bicycle helmets:These helmets are useful for riding at night. It helps you see coming riders, and also allow them to sight you from afar. This is a new technology, that is popularly built in many modern electric bicycles. For instance, the smart helmet from the modern manufacturing brand, Honbike, is built with three light modes. These light modes are known as double fast flashing light, tidal light, and quick flashing light.
Choosing the Perfect Electric Bike Helmet
The foremost feature of a perfect bicycle helmet is comfortability. An electric bike helmet must fit your head, and provide as much comfort as possible. You must be able to wear it without experiencing any pain in the head or heaviness. If you are buying your e-bike helmet online, you will come across reputable brands with size descriptions. Thus, you may measure your head, in order to get the right size for you. Below are things to consider when choosing the perfect helmet for you.
The Ride Purpose
The purpose of riding will determine the most suitable type of helmet for you. If an electric bike is your primary mode of transportation, you will need an aerodynamic helmet. On the other hand, riders who ride for recreational purpose would focus more on helmets that will protect their eyes from debris. People who often ride downhill can use a helmet with a full face cover. Research even reveals that people often land on their chin whenever an accident occur. Thus, wearing a fully covered helmet will also protect the down sides of your face.
The Helmet Flexibility and Weight
You need to choose a flexible helmet with a online b for size adjustment. This is highly important if you are making an online purchase, and you will likely not test the helmet before buying it. The helmet should also meet the weight standard within your province. Ideally, a light weighted e-bike helmet will be between 350 and 400g.
The Charging Capacity
The charging capacity of your helmet is as important as the electric bike's. It should be fully charged within an approximate time of three hours. Meanwhile, not every helmets are electric. The essence of an electric helmet is to serve its smart or technology functions. Nevertheless, the electric helmet should have a long endurance duration. The Honbike helmet has an endurance duration of 36 hours for lightning, and 180 days for standby endurance.
The Helmet Material
The material used in building your helmet will largely affect its durability. Most helmets are produced from polycarbonate and polystyrene foam. The former material helps in creating a strong covering, while the polystyrene foam serves as a lining. You should also look out for a helmet material that will allow you wear glasses while riding. However, you may want to care less about this, if you do not wear glasses.
Typically, an electric bike helmet should have its material information on its package. If you are unsure of the material durability, you can check customers review. Does the helmet last long before it starts wearing out? It will save you some extra cash, without needing to buy a new helmet sooner than expected.
Consider the Price of the Helmet
Although most high-quality or premium electric bikes are pretty expensive, you should consider the ones at reasonable amount. This will allow you allocate expenses for other electric bike accessories. The smart Honbike helmet costs about $69, which is relatively affordable. Meanwhile, you can even get a helmet that is as costly as $300. Thus, you need to carry out research on the average market price. You should also set a budget on how much you are willing to invest on a electric bike helmet. However, you should be open-minded to compromising your budget, if it is extremely below the average market price.
Check for Extra Features
With the improved technology in the transportation industry today, the features of e-bike accessories are being upgraded. For instance, the Honbike U4 has a plug-in feature that allows you to connect to music on your mobile device. Some helmets also have this feature, and does not only enhances the fun you get while riding. It also helps you to communicate with other cyclists or riders through the helmets' microphone.
Other Things to Look Out for in an Electric Bike Helmet
Ventilation: Your location will determine the extent of ventilation to look out for, in an electric bike. For instance, Florida residents will need a well ventilated helmet during summer, to prevent them from sweating too much. You can also wear a ear protector if you are riding in an extreme cold region.
Met safety standards: Confirm if the manufacturing brand meets the safety standard of your province or another top country, during manufacture. The common helmet safety standards are as follow; CPSC (US), EN 1078 (Europe), Snell B90A, Snell B95, ASTM F1952, ASTM F2032, and Dutch NTA-8776.
Indicators: Most modern helmets have light indicators that automatically signals to other road users. This will make riding easier for you, as you concentrate on the road. A helmet with visibility features will also help you to ride through foggy weather or under the rain.
MIPS: You may also consider electric bike helmets with the MIPS inscription. This is a short form of Multi Directional Impact Protection Syndrome. You can expect such helmet to protect your head from a severe fall. Thus, it is highly recommended for cyclists who participate in tough competitions.
Why You Need an Electric Bike Helmet
Firstly, helmets are riders life-saver, considering the high-speed accompanied with riding an e-bike. This is particularly needed for people who ride at a high pedal-assist level.
Minimize the Risk of Riding Heavy Electric Bike
Since ebikes ride at a faster rate than regular bikes, there is an increased responsibilities for riders to bear the consequence. It is even more complicated if you are riding an electric bike with heavy components such as batteries, motor, and suspension system. This may slow the brake effect you apply when caught in a dangerous situation. As a result, your choice of electric bike should also be a top consideration. You can choose an electric bike with a battery that weighs less, or lacks the chain suspension system. A perfect example is the Honbike HF01 and U4 with shaft drive and belt drive.
Electric Bikes - A Less Noticeable Mode of Transportation
Contrary to transportation modes like vehicles, electric bicycles are less noticeable on the road. Also, the chainless models are usually quiet, so coming road users may not notice from afar. This is why it is more important to install lights at the rear view of your electric bike. Also, electric bikes are not predominant yet in some developing countries. Thus, people within these provinces would not expect to see e-bikes on the road as much as vehicles. This lack of awareness makes an e-bike rider less noticeable to other road users. You can always be on guard, by wearing your helmet.
Conclusion
Cycling in a busy city may encounter some unexpected situations, please remember to wear a helmet for a safer ride. Hopefully this article can help you find the perfect helmet, and you can also click here to find more buying tips related to electric bike.
---
Related Product
---
Share Article