Share Article
Let Honbike be Your First E-bike
If you plan to join the electric bike trend, you should consider getting Honbike as your first brand product. Undoubtedly, there are several e-bike models in the transportation market; why should you choose Honbike? As an emerging e-bike manufacturer, we work harder to improve products and launch new designs. We aim to create a low-maintenance, chainless e-bike that provides a hassle-free riding experience for new e-bikers. You will discover more unique features of this product as you read the article further.
Increased E-bike's Range
Many cyclists are often drawn back due to the inability to cover a long mileage on a single charge. Honbike has recognized this need and decided to launch an e-bike that solves the common problem. Every Honbike U4 riders can now reach 100km on a single charge. Provided the journey is not affected by factors such as bad roads or high speed, you can cover the 100km mileage. 
Improved Battery Pack and Capacity
The Honbike U4 battery can be fully charged for 4-4.5 hours, with an integrated lithium-ion of 432Wh. This lithium-ion battery type performs better with higher power output than its lead-acid counterpart. It is also lightweight, so you can easily pack it on a journey. It also has a cover that prevents dirt from sticking to the battery's pack. Even though Honbike increased its bike's range, the brand did not relent on its battery's quality.
No Chain Drive System
The belt drive system of Honbike U4 is 10,000km maintenance-free. This makes it the best option for every intending electric bike user. It is much easier to use and maintain and is a better chain-drive alternative. Since the belt drive lacks a chain, it causes no noise, ensuring a smooth and comfortable riding experience. This does not cause a mess, often resulting from the grease applied to chain-drive e-bikes. Also, the Honbike U4 uses the Gates Carbon belt drive, a premium drive type, among others. Gates Carbon belt drive is highly recognized and is only present in top-rated or luxurious bicycles.
Foldable Design
Every first-time bike owner needs a product they can easily fold and take along with them on a journey. The Honbike HF01 frame region is flexible, and you can easily fold it within 15s. This also makes commuting easier for city riders. If your company supports employees commuting with e-bikes, you may be allowed to have a mini parking space beside your office desk. Meanwhile, this would only be possible with an electric folding bike to improve its portability.
High Ratio Rear Hub Motor
A motor is an integral component of an e-bike, influencing its overall performance. Hence, it would help if you had an e-bike with a quality motor that would yield a preferred power output and speed. Honbike U4 uses a rear hub motor, which is ideal for a full power output of 250W. With the motor type, riders can achieve 36V and 25km/h. These rates meet the EU legal requirements, which also apply to most countries with many e-bike users. The Honbike U4 is also built with a gear reduction transmission. This leads to lesser battery power consumption, increasing the chance of reaching a long distance or mileage.
Advanced Technology Input
As technology advances, it is also reflected in Honbike's productions. The latest U4 model has a handlebar display. The display will alert riders of the speed they are riding at and allow them to respond appropriately. It increases the certainty level of riders and makes them feel less anxious while on the bike. Honbike U4 also uses 7000 series aircraft-grade aluminum. This aluminum material supports friction and contributes to the sleek-frame design. On the contrary, the less quality version, 6000 series aluminum, is more common in regular e-bike models.
Another advanced technology input is automatic uphill assistance. This assistance is made possible with the built-in gyroscope. It also has a shock absorber mechanism that allows riders to respond appropriately to a sudden change in motion. The brake level design is also ergonomic, enhancing quicker brake interaction. Thus, this minimizes the risks associated with riders climbing uphill areas.
The advanced technology input of Honbike seems to be massive, with another introduced three riding modes. These riding modes are known as Eco, City, and Sport. They are located at the handlebar, allowing riders to adapt to different terrains. You can also connect to the Honbike App via the built-in Bluetooth in your U4 e-bike. This App can help riders track their speed and covered distance. Interestingly, it is available for both Android and iOS.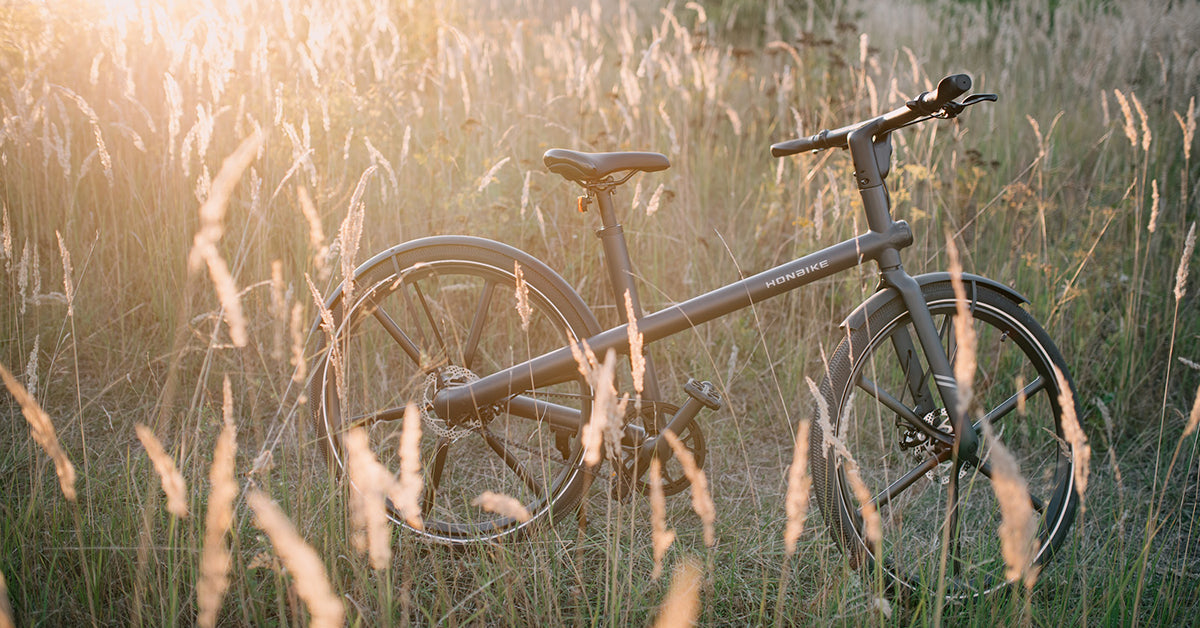 Top Three Criteria for Choosing your First E-bike
Having known the benefits Honbike U4 has for you, what other criteria should you look out for? The three top criteria recommended by this article are; weight, ease of purchase, and budget.
The E-bike's Weight
Your first e-bike should provide optimum comfort, which is only possible with a suitable weight. E-bikes are designed to fit particular body sizes, so you need to find out if you can ride comfortably on the bike or not. Manufacturers usually include the suitable rider's weight in product packages. The Honbike U4 weighs about 20.2kg, which is ideal for riders with heights between 1.6 - 1.9m. Also, a maximum rider's weight of 120kg is highly recommended, which includes extra luggage weight. Meeting these standards will prevent the first-time rider from slow rides due to heavy luggage.
Ease-of-Purchase
Your first-time e-bike brand should be easily accessible, with a flexible purchase mode. Honbike introduced a discount and upfront payment method for interested U4 buyers. There is a "buy now, pay later" policy, Which is also available for PayPal users. You may also check if the order procedures are in your favor. Honbike attends to customers' requests in a few minutes and keeps its promises.
The Rider's Budget
Having a budget will help you to identify when an e-bike is right for you or not. Although electric bikes are relatively cheap in most countries, there are luxurious options. Hence, plan a budget for your e-bike and the maximum price range you cannot exceed. Fortunately, the Honbike U4 is an affordable model, even with the added benefits. The e-bike costs about €1.699,00, which is affordable for almost every interested user.
Conclusion
You have made a smart decision if you have chosen Honbike U4 as your first e-bike. It is user-friendly, with a minimalist design that fits the trending bicycle styles. The bike's handle is rounded compared to the regular sharp design. Meanwhile, this is a more acceptable e-bike style for many millennials and GenZ. Also, EU and UK users can enjoy the free shipping offer provided by Honbike on U4 orders. This also comes with a 2-year warranty - a trait of reputable e-bikes brands. Get yourself a Honbike model today while supporting the green environment with a high-quality electrically powered bike.
---
Related Product
---
Share Article